The Samsung Galaxy S21 Ultra vs. iPhone 12 Pro Max are the two current top smartphones in the world. There can only be one winner in this field of battle.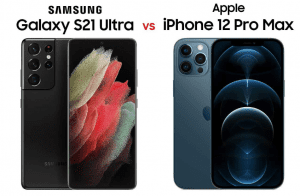 With a stunning 6.8-inch Dynamic AMOLED display that ranges from 10Hz to 120Hz, two telephoto zoom lenses, and a huge 5,000 mAh battery, the Samsung Galaxy S21 Ultra is one of the company's most outstanding models. Additionally, the S21 Ultra is the first phone outside of the Galaxy Note lineup to feature the S Pen.
However, there's a good reason why Apple's phone has consistently ranked first on our list of the best phones. It provides an incredible camera setup with Dolby Vision video recording and excellent low-light performance. It also features the quickest performance available, a stunning 6.7-inch OLED display, and a sleek new design. Which phone is the greatest overall, and which one is better for you? These queries will be addressed in our Galaxy S21 Ultra vs. iPhone 12 Pro Max comparison.
Design of both phones
The camera on the Samsung Galaxy S21 Ultra has a revolutionary contour cut design that integrates it into the glass back. Although it has a slim appearance, the Ultra is nonetheless a powerful phone. It is taller, thicker, and heavier than the iPhone 12 Pro Max, which measures 6.33 x 3.07 x 0.29 inches and weighs 8.03 ounces, at 6.5 x 2.97 x 0.35 inches and 8.08 ounces.
The iPhone's Ceramic Shield display is intended to provide four times the drop resistance of its forerunner, and it has excelled in numerous drop tests. With regard to the Gorilla Glass Victus screen on its phone, Samsung makes no such guarantees. On the other hand, s21 Ultra has curved edges which seem weak and has less chance of surviving after a drop test.
Camera Performance
Since both phones have excellent cameras, the contest mostly depends on them. The S21 Ultra includes a newer autofocus sensor in addition to four rear lenses. A 108MP main camera, a 12MP ultra-wide camera, and two 10MP telephoto lenses—one with 3x optical zoom and the other with 10x—are included.
A 12MP primary sensor, a 12MP ultra-wide camera, and a 12MP telephoto zoom lens with 2.5x optical zoom are all included in the iPhone 12 Pro Max. Additionally, a LiDAR sensor is present, which is useful for portrait and low-light photography.
Both the S21 Ultra and the iPhone 12 Pro Max have excellent cameras, but they shine in different ways. When it comes to zoom performance, the S21 Ultra easily prevails due to its lenses' increased reach.
Performance
Despite having a quick Snapdragon 888 processor and 12GB of RAM, the Galaxy S21 Ultra trails the iPhone 12 Pro Max in both artificial benchmarks and practical tests. The performance speed of the iPhone 12 Pro Max is better.
Battery
The Galaxy S21 Ultra has a battery of 5000mAh but on the other hand, iPhone 12 Pro Max has a battery of 3687 mAH. Both phones performance very well according to the battery. And both of the models have the feature of fast charging as well.
Software
Widgets on the home screen for quick access to information, including a Smart Stack of numerous widgets in one location, are just a few of the welcome improvements that iOS 14 delivers to the iPhone 12 Pro Max. Additionally, the brand-new App Library feature automatically groups your apps by category.
On top of Android 11, the Galaxy S21 Ultra runs One UI 3.0, which has some fantastic new features of its own. You may access a variety of widgets without unlocking your phone thanks to this. There are exclusive camera gimmicks like Director's View, which allows you to use the front and back cameras simultaneously when producing video, and the Quick Panel is now simpler to modify to get things done faster.
Price of both phones
The price of the iPhone 12 Pro Max is 1998AUD but on the other hand price of the Samsung S21 Ultra is 899AUD. Both phones have a price gap. Now it's up to you what you want to choose in this battle between Samsung and iPhone.