Generally, Smartfonerepairs performs iPhone repairs in-store, such as displays, replacement batteries, and cameras, and our aim is to provide same-day services (subject to parts availability).
Some Amazing features of iPhone 13 Pro
In addition to Apple's more affordable iPhone 13 and iPhone 13 mini, the iPhone 13 Pro was introduced on September 14. The iPhone 13 Pro is ideal for those who want an iPhone with the most features and the best cameras.
Like iPad Pro models, the iPhone 13 Pro features OLED Super Retina XDR Displays with ProMotion technology for adaptive refresh rates ranging from 10Hz to 120Hz.
With a resolution of 2532×1170, the iPhone 13 Pro has 460 pixels per inch. HDR features 1200 nits maximum brightness, along with True Tone to match the display's color temperature with the ambient light, Wide Color to enhance hues, and Haptic Touch to provide feedback.
The front-facing true depth cameras have been updated, and the Face ID notch has been made smaller, so it takes up less space overall. The iPhone 13 Pro also has nano-ceramic crystals infused into its body for better drop protection, in addition to the Ceramic Shield cover glass. Apple's new iPhones feature IP68 water and dust resistance and can be submerged in water for 30 minutes.
Apple's new iPhones are powered by the latest A15 Bionic chip.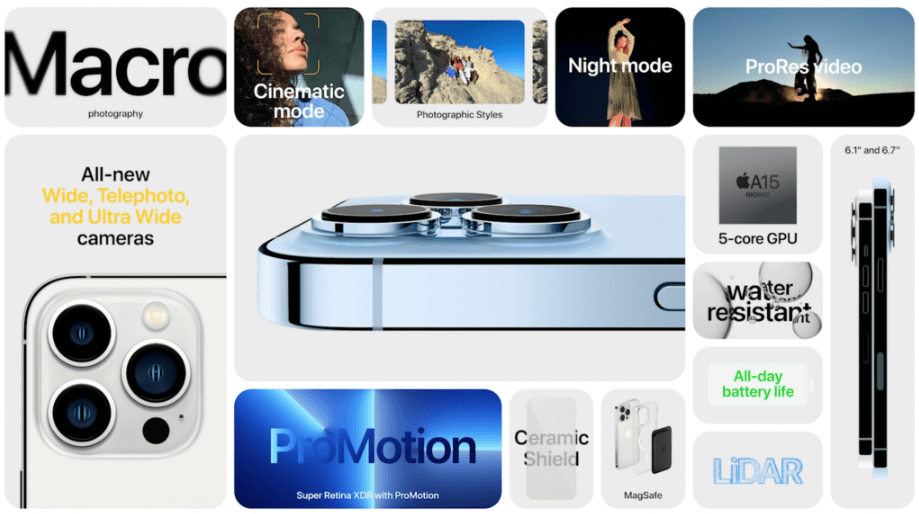 Size
The iPhone 13 Pro is 6.1 inches tall, 2.82 inches wide, and 7.65mm thick.
Colors
There are four colors available for the iPhone 13 Pro: Graphite, Gold, Silver, and Sierra Blue. Sierra Blue replaces Pacific Blue as a lighter shade of blue.
Display
There are three iPhone 13 models, each with a Super Retina XDR OLED display, which is flexible and extends into the back.
Water Resistance
The iPhone 13 Pro is IP68-rated for water resistance. The iPhone 13 Pro can be submerged up to 6 meters (19.7 feet) for 30 minutes, the same as the iPhone 12 Pro.
IP68 stands for dust and water resistance. The 6 refers to protection from dirt, dust, and other particles, and the 8 refers to water resistance.
ProMotion
It is the first time Apple's ProMotion technology has enabled low-power display backlighting on the iPhone 13 Pro. The iPad Pro was the first device to introduce ProMotion, which provides adaptive refresh rates between 10Hz and 120Hz.
Ceramic shield
The iPhone 13 models have proven to be less durable than the iPhone 12, which isn't surprising since they share the same Ceramic Shield display and glass body as the iPhone 12.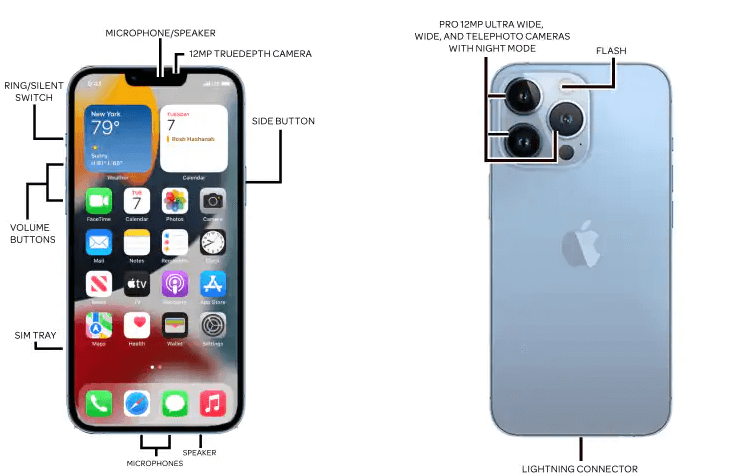 A15 Bionic Chip
The iPhone 13 has Apple's A15 chip, which offers better performance and efficiency than Apple's previous A14 chip for the iPhone 12. Featuring two performance and four efficiency cores, it is the fastest smartphone chip available.
RAM
Apple's iPhone 13 Pro models have 6GB of RAM, and its iPhone 13 models have 4GB of RAM. In comparison to the iPhone 12 and 12 Pro, the iPhone 13 Pro has the same 4GB and 6GB of RAM, respectively.
Storage Space
iPhone 13 models come standard with 128GB of storage, and iPhone 13 Pro models come with 1TB.
Triple-Lens Rear Cameras
The iPhone 13 Pro and Pro Max feature three lenses: a 77mm, 6-element f/2.8 Telephoto lens, a 26mm, 7-element f/1.5 Wide lens, and a 13mm, 6-element f/1.8 Ultra-Wide lens.
Battery
Connecting a USB-C power adapter of 30W or more will allow the iPhone 13 Pro Max to charge a little faster than the iPhone 12 Pro Max, but the difference isn't substantial since 27W is only a peak charging speed.
CPU performance
The CPU has two performance cores and four efficiency cores in this 6-core CPU, and there is one more GPU core than the iPhone 13 model. Additionally, there is a 16-core Neural Engine. The 5-core GPU performs 50% faster than any other smartphone chip.
Rear Camera
The rear camera has an upgraded triple-lens setup with an f/2.8 telephoto lens, an f/1.5 wide-angle lens, and an f/1.8 ultra-wide lens. With its 2.2x larger aperture and largest sensor in an iPhone yet, the Wide lens lets in 2.2x more light, while the Ultra-Wide lens lets in 92 percent more light for improved low-light performance.
This year, the camera setup is the same on iPhone 13 and iPhone 13 Pro, so there is no difference between the Pro and Pro Max. With the 77mm Telephoto lens and the addition of the Ultra Wide Lens, the optical zoom is 3x. Compared with 2.5x on the 12 Pro Max, there is a 6x optical zoom range and 15x digital zoom capability. In addition, there is a LiDAR scanner, which is not available on the iPhone 13 and 13 mini.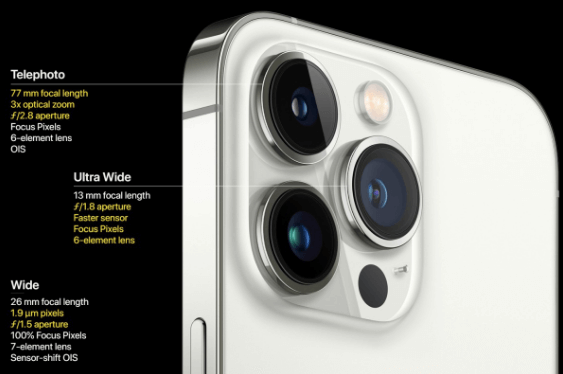 Video effects
Along with the standard Portrait Mode, Night Mode, Time-Lapse, and other photographic capabilities, the iPhone 13 Pro models gain Cinematic Mode. This feature uses rack focus to seamlessly shift focus from one subject to another, artfully blurring the background and creating movie-quality depth effects. Cinematic mode shoots in Dolby HDR, and the depth of field and blur can be adjusted using the iPhone's camera app. 4K video recording at up to 60 fps is also supported.
With Smart HDR 4, you can optimize contrast, lighting, and skin tones for up to four people in a photo, and Deep Fusion, a carryover from iPhone 12, brings out texture and detail in low-light AD scenes.
Photographic Styles
A photographic style is a kind of enhanced filter that can be applied selectively to an image, muted or enhanced colors without affecting skin tones. Several options for customization and refinement in iPhone 13 Pro include vibrant, rich contrast, warm, cool, tone, and warmth.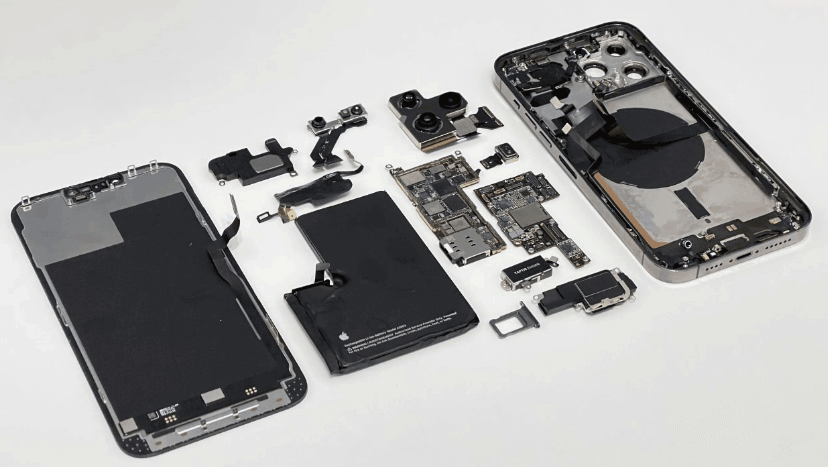 iPhone 13 Pro Repair Services at Smartfonerepairs
The screen of your iPhone 13 pro may need to be repaired if it is cracked or shattered. Our goal at Smartfonerepairs is to provide a fast, effective, and professional iPhone repair service so you can get your phone running in no time. A wide range of repair services is available at our repair shop, like phone screen repair, battery replacement, charging port repair, motherboard repair, buttons repair, iPad screen repair, all laptop repairs, laptop screen replacement, water damage repair & data recovery. You can enjoy the amazing features of your favorite mobile if you choose the best repair services in Sydney from Smartfonerepairs.